2023/12/09 - 13:26
---
«Help! I have to write a paper on Kafka!»
I have been receiving such requests by email so often that I can hardly keep ignoring them. However, I really do not have the time to help all young people who need suggestions on how to get something written about some work by Kafka.
As concerning one of Kafka's most known stories, «The Metamorphosis», I prepared a Special Issue which can be opened by clicking on the left navigation bar. In general, what I can do is suggest here some books about Kafka and his work, but I strongly recommend reading his novels and stories first and most of all. You will enjoy them, and writing about him will no longer be a boring dirty job.
After that, if you want to understand more about him and find some good ideas for your paper, you could have a look at some introductory books such as the ones that follow. They are elementary books, and you can buy them at a cheap price at Amazon, or at your nearest bookstore.
You can begin with:

Introducing Kafka by David Zane Mairowitz, Robert Crumb
Price: $8.76
Kafka's life story, his ambivalence about his Jewishness and his family, his psychological preoccupations, and several of his tales are portrayed in gruesome comic-book fashion by an artist who must surely be his soulmate.
Another very useful resource is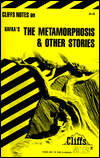 Metamorphosis and Other Stories by Herberth Czermak
Price: $3.96
Not for an advanced reader, but useful to get started on your paper.
If you want to know more about Kafka's home town, or you want to travel to Prague and visit his house, his favourite walks and so on, you can't miss Wagenbach's guide:

Kafka's Prague : A Travel Reader by Klaus Wagenbach
Price: $15.37
Franz Kafka rarely left his home town of Prague. At 1903, he wrote "Prague doesn't let go. This little mother has claws." And though he complained often to his diary that he needed to get away, he spent most of his 41 years (1883-1924) firmly Prague-rooted. Prague is where Kafka wrote The Metamorphosis, The Trial, and The Castle, and where he lived and worked. A fan of Kafka might want to see the houses (nearly all still standing) where Kafka lived and the parks he strolled. Likewise, fans of Prague get an expanded understanding of the city through Kafka's eyes. This erudite and beautifully compiled Travel Reader is not only a guide to the Prague that Kafka knew, but also a guide to the Kafka that Prague knew.
Some important stories with a short commentary can be found in Heller's collection: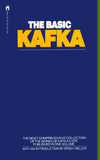 The Basic Kafka by Erich Heller (Editor) Price: $4.79
"If you are ready for Kafka, then this book is the perfect introduction. For those of you whose short-story tastes were formed reading stories based on action-filled plots and scantily-clad women, or at least stunning climaxes (i.e., "The Lottery", "The Necklace", "Witness for the Prosecution") then all I can say is, expand your mind a little and read these stories. If they have any theme at all, it's alienation. Beyond that, it's every man, woman, and unknown creature for him, her, or itself. To this day I think about the protaganist in "The Burrow" and still wonder "what the *hell* was going on?" Kafka exposes the sick, malformed, diseased and twisted through his characters and situations, and by doing so (hopefully) helps purge the same in ourselves."
(A reader from N.Y.)
If you're curious about Kafka's life, you should first hear what his best friend, Max Brod, has to say: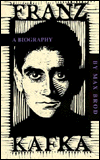 Franz Kafka : A Biography by Max Brod
Price: $12.80 Click here to order
"When one considers Kafka has had so much influence on literature that the word "Kafkaesque" was invented to describe his thoughts and effects on us (how many writers can claim their "own word"!),it is surprising that only three notable biographies on him exist. This one is by a man who knew Kafka closely for the last half of his life.When they met Kafka was 19, he died one month short of his 41st birthday.The author's reverence makes the reader become passionately attached to the subjects of Kafka's inner feelings; his reserved,taciturn approach to people, his obsession with pure thoughts, his sensitivity to noise, his devotion to the the earth,its humans,animals and plants. Even now, three quarters of a century later, the reader feels the exasperation, the frustration, the torment Kafka suffered under his materialistic, social climbing father who dominated and eventually ruined his son. The book cannot be called lively,Kafka's lifestyle was not frolicsome. However, it is never dull. His clandestine trysts with the sleazier side of Prague nightlife takes the reader by surprise.Then comes Brod's stunner of a revelation only unearthed in 1948, twenty-four years after Kafka's death.??? The last quarter of the book is the best.Intense and sorrowful, just as Kafka would have wanted it. For those looking for the intellectual side of Kafka the book offers insights into his appreciation of Goethe (his idol),Thomas Mann, Flaubert and Dickens, among many others. Brod's ace is his ability to quote the sensitive Kafka; viewing the fish at a Berlin aquarium after Kafka became an ardent vegetarian he is quoted, "Now I can at last look at you in peace,I don't eat you anymore". Also his reverence for all life as when a nurse placed flowers near his deathbed," One must take care that the lowest flowers over there, where they have been crushed into the vases, don't suffer. How can one do that? Perhaps bowls are really the best." And then the "humorous" Kafka on hearing that he had TB," My head has made an appointment with my lungs behind my back." When Kafka died tragically young he joined the likes of the Romantics Byron (36),Shelley (29) and Keats (25) as a group who had dedicated their lives to the betterment of mankind and had all died when life should have just been beginning. As with the Romantics,one is left wondering what Kafka would have achieved given another forty years. One will never know, but for an interesting observation of his 40 years,"Franz Kafka-A Biography" is the book."
(A reader from L.A.)
A more exhaustive biography, with a lot of new material: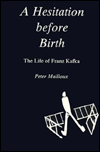 A Hesitation Before Birth : The Life of Franz Kafka by Peter Mailloux Price: $50.00 Click here to order
If you are thinking of a gift for your teacher you should consider:
Approaches to Teaching Kafka's Short Fiction (Approaches to Teaching World Literature, No 51) by Richard T. Gray (Editor)
Price: $37.50
This book can help your teacher improve his students' understanding of this wonderful writer.

Revision: 2021/01/09 - 23:40 - © Mauro Nervi